Fort Sill National Historic Landmark and Museum
The Fort Sill National Historic Landmark and Museum at Fort Sill consists of 26 buildings with 7 of them containing exhibits on the Frontier Army. Admission to museum complex is free. The museum complex features both indoor as well as an outdoor exhibits. You will have the opportunity to tour a Frontier Army compound as well as view exhibits. Inside the museum you find a diversity of history preserved and presented in an educational environment. You will not want to miss visiting this museum during your stay in the Fort Sill Area.
Wichita Wildlife Refuge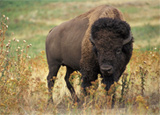 Established in 1901,Wichita Mountains Wildlife Refuge is one of more than 546 refuges throughout the United States managed by the Fish and Wildlife Service. The 59,020 acre Refuge hosts a rare piece of the past - a remnant mixed grass prairie, an island where the natural grasslands escaped destruction because the rocks underfoot defeated the plow. The Refuge provides habitat for large native grazing animals such as American bison, Rocky Mountain elk, and white-tailed deer. Texas longhorn cattle also share the Refuge rangelands as a cultural and historical legacy species. More than 50 mammal, 240 bird, 64 reptile and amphibian, 36 fish, and 806 plant species thrive on this important refuge.
How to Get There: From I-44 take Highway 49 (exit 45). Go west 10 miles to the Refuge gate. If coming from Highway 62, take Highway 115 (Cache exit) north to the Refuge Gate. A map is available. You will find leaflet dispensers inside each of the Refuge gates that have maps and information. Contact Refuge Headquarters for more information.